FSB Community Business Of the Year 2019 (Joint)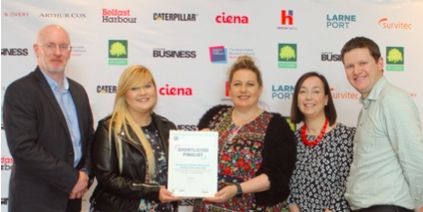 10 April 2019
Kilcooley Women's Centre shortlisted for responsibility award.
Kilcooley Women's Centre is among five companies shortlisted for the Responsible Product/Service Award, part of the Responsible Business Awards in Northern Ireland
The Responsible Business Awards seek to recognise and reward firms in Northern Ireland that are embracing the journey to build better workforces, create a sustainable economy and healthy communities
The winner will be announced at a special black-tie event on Thursday 30 May at Belfast Waterfront Hall
Shortlisted in the Responsible Product/Service Award category, sponsored by Ciena, Kilcooley Women's Centre has developed innovative services that have inspired responsible customer behaviour and encouraged more sustainable lifestyles.
Alison Blayney, CEO of Kilcooley Women's Centre said 'we are thrilled to have been shortlisted for this award.  We have worked with Business in the Community for many years.  Our current strategy of building strong business partnerships will be strengthened and invigorated as a result, and provides recognition of the work going on in the Kilcooley and Ards North Down Region by the staff and volunteers of Kilcooley Women's Centre
The annual awards, run by Business in the Community and supported by JP Corry and Ulster Business, seek to recognise and celebrate firms in Northern Ireland that are making a difference by taking practical action to address pressing social and environmental issues.
This year's award categories are:
NI Responsible Company of the Year, sponsored by Heron Bros.
Investing in your Communities Award, sponsored by Caterpillar
Responsible Digital Innovation Award, sponsored by Ciena
Diversity and Inclusion Award, sponsored by Legal-Island
Education Partnership Award, sponsored by Allen & Overy
Employability and Jobs Award, sponsored by Belfast Harbour
Environmental Leadership Award, sponsored by Arthur Cox 
Responsible Product/Service Award, sponsored by Ciena
One-to-Watch Award, sponsored by Survitec
Wellbeing at Work Award, sponsored by Larne Port
Business in the Community NI's Managing Director, Kieran Harding, said: "Now more than ever, businesses are getting on with the job – demonstrating strong leadership and their commitment to their people, the planet and the places in which they are located. The Awards provide the perfect vehicle to showcase some of the best responsible business actions being taken by organisations here to ensure they are continuing to be a force for good in society.
"Once again, the calibre of entries for this year's Responsible Business Awards in Northern Ireland was exceptionally high, and our judges found the shortlisting process a challenge. I would like to take this opportunity to wish all finalists the very best of luck and we look forward to welcoming everyone to the gala awards dinner at Belfast Waterfront Hall on Thursday 30 May where the winners will be announced."
For more information visit www.bitcni.org.uk or call (028) 9046 0606.