KWC Shortlisted for 5 Categories in this Years Social Ecomomy Awards and Wins one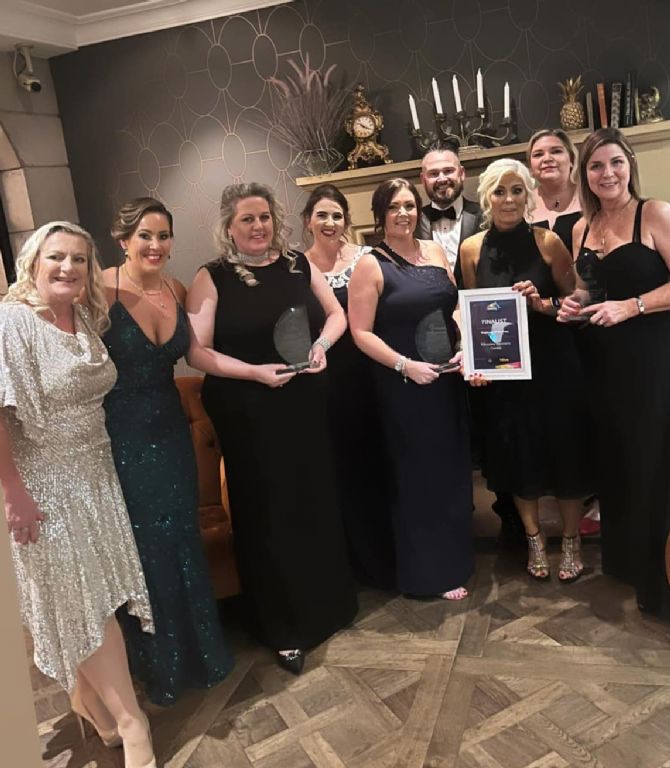 4 November 2022
The KWC team were delighted that we are WON in 3 categories  out of 4 Nominations in this years Bangor Business Awards . Innovation through Covid, Alison Blayney for Commitment to the Bangor  Community and Lisa Mussen joint for Employee of the Year . Congratulations to all the team involved for all their hard work. Thanks to Bangor Chamber of Trade for a fantastic evening
The awards were for 
Commitment to the Bangor Community Alison Blayney
Part of the Ards & North Down Big Plan  is to Create positive outcomes for citizens, for a connected, healthy, safe prosperous place to be, empowering, resilient communities/individuals, reducing inequalities, promoting good relations with access to public services. Kilcooley  Womens Centre firmly believes in this plan and that working together community and business can make progress towards this. This year our 'Hive' project worked together with community and local business to offer a menu of training opportunities, including workplace focused training to reinforce their CV with the experiential skills employers/jobseekers need.Alison's drive and commitment has enabled us to provide a quality community education programme to address educational underachievement, a programme which continually evolves, adapting to the changing environment in which we live and work. She continually challenges both staff and students to strive for more. Alison Blayney, Kilcooley Women's Centre's Chief Executive Officer was  awarded the Medal of the Order of the British Empire (BEM) in the 2019 Birthday Honours for services to the community.
Employee of the Year
The employee being nominated is Lisa Mussen. Lisa has worked for Kilcooley Womens Centre for over 4 years. She has progressed through the organisation working in administration, project officer and is now a Project Manager on an Employability Project.  Lisa is responsible for supporting a number of people into further training and or employment by supporting them on a one to one basis and mentoring them through their individual learning plan.
 Lisa has demonstrated her skills and is a key player in the induction process for new staff. Lisa is a positive influence on other members of the team, and has proven this as we have come through a challenging year with the Pandemic and have had to adapt how we engage with our participants.
Innovation Through Covid Company of the Year
When the pandemic hit KWC remained open on a 'remote' basis following Government advice, with all calls diverted to 4 mobiles. This enabled the usual 'walk in and rapid response' service to be adapted to continue in the current conditions.  All staff offered a one to one call service to clients including a Zoom webinar clinic if preferred.  This includes referral to foodbanks, our healthcare packs, referral to our employment and jobsearch coaches and counselling services such and liaison with Social Services for the children on our roll who are on the at risk register.  Our Health & Wellbeing team developed  health and wellbeing activity online including physical activity programmes, healthy eating support and Yoga classes.  Staff received requests for help well into the evening to their personal contacts, and we did our best to ensure no one went unassisted. Health and wellbeing packs were been issued including toilet roll, shower gel, hand wash, toothpaste and deodorant and sanitary products to vulnerable clients.  Employment support has been extremely busy and we augmented our service to support remotely by telephone, WhatsApp and Zoom.  Our Ladybirds Childcare  provided essential day-care services i.e. for vulnerable children and for children of "frontline staff" so that we could continue to provide support for those most vulnerable in the community.  All private daycare in Bangor was closed and a one stage we were the sole provider for Key Workers for early years in the Town.