Social Enterprise NI Gala Awards 2019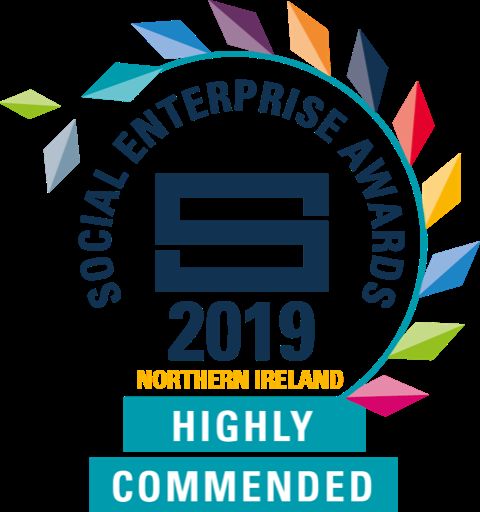 11 October 2019
We are delighted to announce that our Executive Director Alison Blayney has been Highly Commended as Social Enterprise Leader of the Year. The Annual Social Enterprise NI Gala Awards Dinner in association with Sparq AV took place in The Crowne Plaza Hotel, Belfast. On Friday 11th October 2019. The awards, showcasing the Social Enterprise Sector in Northern Ireland, was attended by over 450 guests from Social Enterprise, Private, Public and Educational Sectors.  The awards ceremony was hosted by UTVs Paul Clark a great supporter of the Social Enterprise Sector.
https://www.socialenterpriseni.org/news/9-october-2019/social-enterprise-ni-awards-2019-in-association-with-sparq-av-winners-announced\
Alison is the Executive Director for KWC. Before her employment in 2008 Alison volunteered with Kilcooley Womens Centre since 1996. The main function of her role is to strategically implement the projects promoted by the centre, support the KWC staff team and provide back office support to the Board of Directors regarding business planning and development, income generation and governance.  Alison is responsible for compliance matters, awarding/exam body registration, project development and implementation and finance, administration human resource management.
Alison is an independent member of the Ards North Down Policing Community Safety Partnership, and Peace IV Partnership.  She is a member and former Chairperson of the Kilcooley Neighbourhood Renewal Partnership.  She works strategically with the other 13 women's centres across Northern Ireland and lobbies for improved services, funding and resources for women, children and families in Ards North Down.  She has secured major funding/tenders for KWC from various sources including Peace 4, European Social Fund, Department for Communities and Erasmus + and Public Health Agency.
Alison has worked across the UK in the charity, public and private sector including banking, retail and council.  She is the mother of two grown up sons.  She was awarded Business Person of the Year 2018, by Bangor Chamber of Commerce, Bangor Business Awards.  In June this year Alison was awarded the British Empire Medal in the Queen's Birthday Honours List for services to the Kilcooley Community. Alison helped the Board and volunteers secure the prestigious Queens Award an MBE for volunteering in 2017.
Alison Blayney is a complete all-rounder. Managing 24 staff and over 10 volunteers. She oversees the Organisation providing education/training, heath, services for young people, childcare, Social Economy businesses and rural projects across the entire North Down & Ards Peninsula. KWC is Lead Partner on a number of Erasmus+ Plus European Projects and has organised mentoring visits for many women who otherwise would never have experienced leaving Northern Ireland. Alison goes above and beyond for everyone within the Organisation providing an exceptionally high standard of management support to everyone making herself available when needed. She is an exemplar example of what a manager should be.
As Northern Ireland heads for what appears to be a never-ending cycle with no functioning devolved Government, the women's community education sector has never felt as vulnerable.  The usual challenges continue – the sustainability of organisations working at the coal face, with vulnerable people, who want to take the steps to improve both their and their family's outcomes and life chances and address educational underachievement which blights many of our most disadvantaged communities.